Dr. Liviu OLTEANU
Current Secretary General of the AIDLR/IADLR Association
---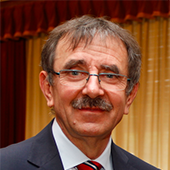 Dr Liviu Olteanu is currently serving as the Secretary General of the International Association for the Defense of Religious Liberty (IADRL/AIDLR).
Since 2011, he is an observer and representative at the United Nations in Geneva, New York and Vienna, a permanent representative at the European Parliament in Strasbourg and Brussels and representative at the Council of Europe in Strasbourg and at the Organization for the Security and Cooperation in Europe (O.S.C.E.) in Warsaw, Poland.
Events.

Liviu Olteanu has organized several major events – international conferences, seminars and side-events – one of which took place in June 2014 at the United Nations Human Rights Council in Geneva, co-sponsored by the UN Permanent Missions of Spain, Canada, Norway, Uruguay and the Council of Europe; the other took place on March 2018 at the UN in Geneva, co-sponsored by Colombia and Spain; other conferences took place in January 2014 and May 2016 in Madrid at the University Complutense, co-sponsored by the Ministry of Justice and Ministry of Foreign Affairs of Spain with the participation of the UN Special Rapporteurs on 'Minority issues' Rita Iszak and Heiner Bielefeldt on 'Freedom of Religion or Belief', and also the Under-Secretary-General of the UN Adama Dieng. To foster international peace and security, Liviu organized "The I Global Summit on Religion, Peace and Security" co-organized with the United Nations Office of Genocide Prevention and Responsibility to Protect, cosponsored by the European Union and Spain and hosted at Palais des Nations in Geneva on 23-25 of November 2016. One of the most recent events have been the international seminar held in Brussels at the European Parliament on February 2018; also the third international conference held in Madrid at the University Complutense on April 2018 where Dr Ahmed Shaheed, the United Nations Special Rapporteur on Freedom of Religion or Belief was the keynote guest.
Expertize.

Liviu Olteanu' expertize is focused on advocacy and education for human rights, intercultural and interreligious dialogue, religious minorities, peace and security. For him human rights are the special 'religion' of the 21st Century', and promoting the defense of the PRINCIPLE of freedom of religion or belief for all people, everywhere, must be seen as the key factor for peace and understanding between people, religions and cultures. As an expert in human rights he's invited and participates at the events organized by the United Nations Human Rights Council, the Council of Europe, the European Parliament, the O.S.C.E., and universities. In the past few years Liviu Olteanu participated as a keynote speaker at many international conferences as organized by the Council of Europe and the Governments of Armenia and Azerbaijan where he delivered keynotes in Yerevan and Baku on inter-culture and inter-religious dialogue; he was invited by the Ministry of Foreign Affairs of Italy on September 2015 and September 2017 'Under the Auspices of Italian Presidency of the G7' in Rome at the conference on "Security and Hate Speech" where delivered a keynote too; also at 'the G20 Interfaith Summits' held in Beijing on 2016 and in Potsdam Germany on 2017; at the OSCE in Warsaw and Vienna on 2016 and September 2017; at the UN Headquarters in New York on July 2017 at the launch by Antonio Guterres the UN Secretary General of "Plan of Action for Religious Leaders and Actors to Prevent Incitement to Violence that Could Lead to Atrocity Crimes"; at the UN in Vienna on February 2018; at the UN in Geneva on May 2018 at the Symposium on 'Freedom of Religion or Belief, Cultural Rights and Women' organized by 'Muslim for Progressive Values' and the UN Special Rapporteurs on Cultural Rights' and 'Freedom of Religion or Belief'. On June 2018 at Harvard Law School Cambridge Liviu delivered a keynote on "At 70th Anniversary of the Universal Declaration of Human Rights – Fostering the Protection of the Fundamental Freedoms Based on Human Dignity », and so on.
Academic Achievements.

Liviu Olteanu has achieved the title of Doctor in Law "Summa Cum Laude" following his doctoral studies at the universities of Madrid and Oxford, on: "Origins and Horizon for the Fight of Religious Liberty. The United Nations and Diplomacy in Action for the Protection of Religious Liberty". He has also earned a Bachelor's and a Master's degree in law, a Bachelor's and a Master's degree in theology, a Master's degree in education, the title of Expert in human rights, a degree in diplomatic and international studies, and a Diploma of Advanced Studies in Law (DEA), and he received a scholarship from Oxford University.
Recognition

Few remarks. According to Dr. Bruno Vertallier, the former president of the International Association for the Defense of Religious Liberty (AIDLR),
«Liviu Olteanu is a suitable person to work in the field of international relations, especially with the United Nations, because of his personality, academic background, integrity, capacity and competency in public affairs and human rights. At the core of his personality, I recognize moral values in Liviu Olteanu. I would identify them as respect for men of all faiths and beliefs. I recognize in him a strong will for dialog and a search for balance and honesty in the quest for human dignity. (Conscience & Liberty 73/2012, p. 7).»
The Secretary General of the Council of Europe Mr. Thorbjorn Jagland, after the meeting of Council of Europe co-organized with the Government of Armenia and hosted at Yerevan, wrote to Liviu Olteanu:
«Dear Secretary General,

Your personal contribution to the exchanges, in particular last year in Yerevan, was very much appreciated and I'm confident that this dialogue will be continued both in your Association (AIDLR) and in Council of Europe.»
The former UN Secretary General Mr. Ban Ki-moon wrote:
«Dear Secretary General Mr. Olteanu,

I appreciate your support for the United Nations. I hope your organization will continue to work with the UN for world peace and human rights.»
According to the UNESCO's Letter sent to Liviu Olteanu:
«On behalf of Mrs Irina Bokova, Director- General of UNESCO, I wish to thank you for the letter that you addressed to the Organization…The defense of religious liberty is an integral part of efforts to protect and promote cultural diversity; a central priority for UNESCO. It is an ethical imperative that is inseparable from respect for human dignity and that should be pursued in full conformity with the human rights and fundamental freedoms guaranteed by international law. As you rightly stress in your letter, the creation of an environment of tolerance, mutual respect and understanding, one which guarantees the full enjoyment of the freedom of conscience and religion, requires that all concerned actors and stakeholders work together closely...»
Dr. Heiner Bielefeldt, former UN Special Rapporteur on Freedom of Religion or Belief, after the launch of the "Dialogue Five Framework" at international conference hosted in Madrid in 2014, and hosted at the University Complutense wrote:
«I attach great importance to the design of Madrid Conference - proposed by Dr. Liviu Olteanu as "Dialogue Five Framework - for the systematic consideration to have 'five' different actors, different institutions' presence but also at various levels of Human Rights Institutions. We have human rights obligations at different levels: national, regional and international and religious beliefs and human rights develop in different directions and can mutually undermine each other. We have the Council of Europe approach, the EU approach, various national approaches, the UN approach. We need coordination: one purpose is to avoid a mutual undermining of the authority of human rights standards and for that reason we have to know one another better. The structure of Madrid Conference was demonstrating how to avoid damage, risky situations or a loss of authority because one institution could be played off against other institutions. The Madrid Conference really sets an example, this is something we have to do, is really something we should copy, it is a good and useful; we should establish that on a regular basis in fact. The project of IADRL needs developing a consistence holistic framework at various levels, institutions and elements of infrastructure to fit together. (A/HRC/25/NGO/121).»
Dr Ahmed Shaheed, the current UN Special Rapporteur on Freedom of Religion or Belief in a recent interview he gave to Dr Liviu Olteanu Secretary General of the AIDLR that published in the book "Diplomacy & Education for Religious Freedom, A Priority for Public Policy" (2018) he underlined:
«My predecessor Professor Heiner Bielefeldt took full advantage by recommending and stressing initiatives such as the 'Dialogue Five' framework created by the AIDLR Secretary General Dr Liviu Olteanu. I very much intent to continue this approach and I believe that without it we will never be able to fully realize the right to freedom of religion or belief. This is why I have encouraged all stakeholders - including states, faith leaders and civil society – to fully engage with (...).
It has been my privilege and honour to have this opportunity to discuss the priorities of my mandate and exchange ideas with the distinguished members of the AIDLR, an association that has been more critical to the promotion and realization of the right to freedom of religion or belief that perhaps any other since its founding in 1946. It is no exaggeration to say that without the vision, efforts and persistence of Dr Jean Nussbaum, Eleanor Roosevelt and other members of AIDLR the development of the normative framework related to the protection and promotion of this foundational right would not be where it is today. And that is to say nothing of the critical and exemplary role that AIDLR has played in bridging the gap between civil society and human rights bodies both at the national and international levels, including UN human rights mechanisms such as my mandate".«
Mr. Adama Dieng, the Under-Secretary-General, Special Adviser of Secretary General on the Prevention of Genocide, underlined recently:
«Dear Liviu, The year 2016 will be remembered as the cornerstone in the cooperation between us and our two institutions. The Global Summit on "Religion, Peace and Security" was also a turning point in our search for a better world, immune of atrocity crimes, a world which will celebrate the Freedom of religion, a world without any form of discrimination. It is my sincere hope we and our organizations will continue together their Journey for Peace. Once again, allow me to congratulate you for the success of such memorable event and I look forward to see you soon in New York and to discuss future plans as a follow-up to the Global summit and identify other potential areas of cooperation...«
Vision and paradigm.

For Dr Liviu Olteanu every person should be an Ambassador for Liberty, Hope and Peace. He believes that high-level public affairs and dialogue, combined with continual vigilance is vital nowadays for protecting religious freedom and freedom of conscience as fundamental tools for peace, understanding among people, and security. He believes that in order to prevent and solve conflicts, the cooperation and coordination of all stakeholders is necessary – and for it, professor Liviu Olteanu proposed the 'Dialogue Five Framework' (1. Diplomats, 2. Politicians/ Statesmen, 3. Religious leaders, 4. Scholars and 5. Civil society (NGOs & media), working together at national, regional and international levels, and starting at the point of education - that is to train the trainers - government, parliaments, diplomats, religious representatives, etc. He also believes that religious liberty is the cornerstone of freedom, and for it is necessary to encourage a culture of respect for diversity, that is essential for a good understanding between people, cultures and religions, and never forgetting that every individual matters and is entitled to their dignity.